The Humanities Learning Commons has recently been remodeled and redesigned from a set of carrels with desktop computers into a place where students may gather to study and collaborate in an open and relaxed environment. Patrons may take advantage of comfortable and flexible seating to create a study area, or may take advantage of the smaller group rooms if they need something more secluded and private.
Mounted and mobile technology allow students to easily share or collaborate on group projects. A recording studio in the back provides a soundproof room where high-quality audio recordings may be produced. Faculty can get assistance with Y-video and other media by requesting help from the lab attendants on duty. If needed for a large group activity, the entire area may be reserved to suit their purpose, as there is a small elevated stage area with its own lighting, and seating may be rearranged as required.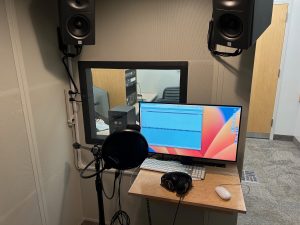 We are pleased to provide the varied services that this repurposed area affords. If you have any questions about the services we provide, or any suggestions on how we can make the area better suited to your academic goals, please contact Russell Hansen (Russell_Hansen@byu.edu or (801) 422-9295).